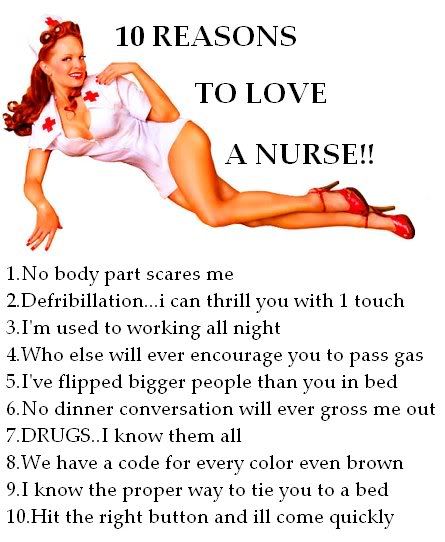 My interpretation to Logistic guy: Reasons why everyone should love nurses...
1. He has nice balls more than a handful it too much! I told him I like the way his balls feel and often cup them when we are together.
2. I like to think that he gets excited by the way I react to the way he touches me...
3. He's a team player and although he isn't used to getting up at 5 am to give me some sexual chocolate he cowboys it up like a champ!
4. I like to baby him...
5. I let him be in control. I prefer it that way!
6. And he indulges me by listening to my nursing stories and pays attention to detail...
7. I learned a lot in nursing school especially about the male human body.
8.He knows my code name...
9. One time and your labeled...
10. Hes got skills...no training needed!