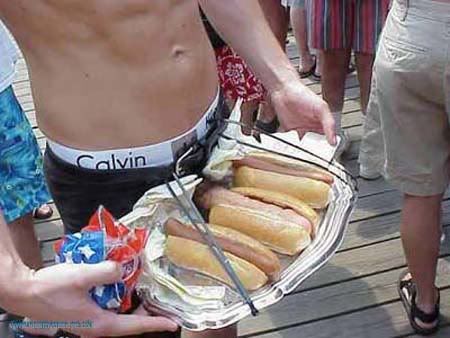 Seriously, something is wrong with my family. My sister sent this pic to me this morning and wished me a happy 4th...and you wonder what is wrong with me?
Speaking of peni, you know I can't help myself it is the nature of the beast. Since my life is like a trashy romance novel my family, boyfriend and friends know that everything that happens in our lives is subject to be written down in a blog for the sake of history...so that it can be recorded in time...
So, yesterday I send Engineer guy a text. I'm thinking that I am being clever, mixing it up some...being somewhat exciting. I text, "hey sexy how about a meeting at your house tonight with my clothes off". He calls me when leaving work.. Engineer guy " Darn girl are you sending me naughty texts while I am work, I kind of didn't understand what you ment"...WTF? Call me crazy...but I thought I was beeing perfectly clear...
Ummm...Engineer guy let me just say it bluntly (ohhh so takes the funn out of it doesn't it). On your way home from the bar call me and then I am going to sneak into the house and take advantage of you...get it. Engineer guy, " Ohhh yeah I get it" Sheesh what does a girl got to do around here to get some action????