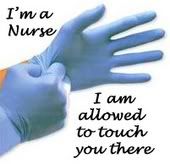 When, I first started having sexual chocolate relations (that's so sterile isn't it)with Logistics guy I gave him a ball examination. He gladly let me palpate his testicles and even coughed for me. I guess he's a team player and you know how much I like team
playas
!
Which leads me to wonder what is wrong with him?... to be having relations with a woman that insist on checking his balls monthly. We are talking about someone who is special, who listens to my stories over and over and never complains about them, a person who understands my obsession over my own and other woman's boobs, a man that will talk with me about old balls as if it were the normal dinner conversation...a man that loves guns and loves to share history...He talks with me until I pass out from the champagne we drank that night...A man that hangs in there and arises to the occasion with a refractory rate that would challenge most 20 yrs.
olds
.
I had to
1. see if he had more than a handful of balls
2. I had to make sure there were no bumps and lump that might need to be ultrasound
3. I just liked making him cough and cupping his balls...
4. I like the way his balls feel...
You be happy to know that his balls were not more than a handful...and there was nothing worth sending him to the Dr. for! Sweet score..
So last Thursday (
panite
dropper day) I told him that there is actually research out there that proves that when men and women have sex with the same partner at least 200 times a year that it helps them live longer. Now me being a nurse and all I like to follow thought with proven research tactics...
Even thought I wear him out...he always arises to the occasion...instead of 3 times on Thursday we might have pick another day of the week to get-in the 4 times a week to satisfy the 200 yr. rule. This all in the name of science..
Sincerely,
Darn girl