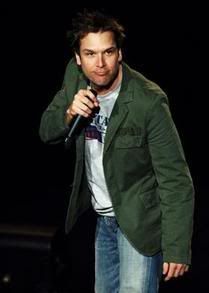 You all might not know it but at times I can be fixated with certain things, people, and or places in the body where my fingers have been. I'm not obsessed I swear.
I have various crushes on some bloggers I follow I can't help it. I sometimes have one night stands with them in my mind. I never usually tell them and according to the Catholic girl code, if they don't know it never really happened.
Recently, I was visited by the 3rd nipple. It's not that I am fixated by a third nipple it is just that I seem to be drawn to men with them. All went well and nobody was even drinking alcohol.
Today Dane Cook is going to be on Oprah. Now I am not saying that I changed my whole day so that I could be with my lover, but I couldn't let Dane down. We are extensively involved. He writes jokes, mostly about other people but I know that I am always on his mind. He came to my city for a show, and of coarse I couldn't go; I find torturing him a little keeps me on his mind. He especially appreciates my boobs because he talks about other women's boobs as to keep mine all to himself. I know I should be keeping this quiet because he is shy, but I think I'm in love with him. Now, I just got to figure out how to meet him.