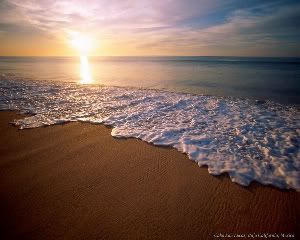 First I would like to say that I am wearing granny panties right now while writing this blog...
Ahhh I wish my life was like a beach. My life then would be practical I would know what to expect. You know the tide would come in everyday and the tide would go out. The best part of that is that the moon would really be my boss of sorts. I wouldn't have control of the fish that pooped in my water, but I know that I wouldn't have to obsess about the bacteria because I would also have fish that ate poop...life would then be grander right??
I have often told Engineer guy that I love him to the deepest end of the ocean till the very last grain of sand and it is true. Communication is not our strong point I have to say and well I am down right stubborn at times and so is he. What I ask you bloggers is what the key to life? I have search long and hard for it but till it evades me. I mean really shouldn't there be some kind of training coarse that we go though in life that prepares us for relationships?Don't you concur? No matter how hard I try and stick to my guns and I have some big ones...guns that is ...okay I have big boobs too...which sometimes causes me trouble but that is a whole other story I will get to sometime soon. Relationships are hard they can be difficult; personally I would choose to go though life without feelings but that I know is no way to live..Damn it Jim I have gone so soft. I guess it is my old age that has cause me to give a s#!+ these days. Tonight more talks about the future...love and the pursuit of happiness. Until then I am wearing granny panties so I don't have pull them out of my crack!